Naked 100 Fusion E-Liquid 60ml Collection
Naked 100 Fusion E-Liquid 60ml Collection is the product of brand Naked 100, it's one of the best vapor products with the option of Straw Lime 0mg:1pcs, etc.
Notice: This product is currently only supported for free shipping to the United States.
Naked 100 Fusion E-Liquid 60ml Collection Review
Naked 100 Fusion E-Liquid 60ml Collection Instructions
Overview
The Naked 100 fusion cells are a product that's known for having just the right amount of tart experiences when you are partaking in E-liquid. If you value a tart the liquid and a balance of natural fruit flavors with sweet and sour notes, the fusion line from this product is one of the best starting points for you. Naked 100 created an extremely unique flavour configuration that has sweet and sour notes as well as a blend of nicotine that can prevent you from smoking. The nicotine addition in this vague juice can also enhance the flavors and lead to a stronger hit.
Some of the main flavors that are available from the naked 100 fusion E-liquid are:
Naked 100 Fusion E-Liquid Green Lemon 60ml
If you love sour patch kids this is a flavour that you are going to really enjoy. With a strong front flavour as well as a sour sugar experience that comes later in the flavour profile, this is a sweet and tart experience that's good at any time of year. The lime and gummy flavors of this ejuice are a breath of fresh air and if you like fruity candies this is the type of juice that will help you to get a flavorful hit and a strong experience from your vape.
Naked 100 Fusion E-Liquid Straw Lime 60ml
The strawberry sour belt candy vague in a Barry lime is an excellent candy for inhaling and exhaling. This is the perfect way that you can mix wild strawberry with a series of citrus hits. The naked vape straw lime is a product which is a smooth and extremely powerful candy experience that you can enjoy at any time of the year. Straw lime offers just the flavour that you may want to enjoy if you are a fan of fruity flavors and enjoying the best in strong throat hits.
Naked 100 Fusion E-Liquid Triple Strawberry 60ml
With case of bubblegum and strawberry, the front fruity flavors and the bubblegum undertones make this a strong flavour that you can enjoy from your vape. The exhaling and the infusions of the flavors that you can get out of this configuration are some of the best that you might want to enjoy in a candy style e juice. The nicotine only adds to the potency of the sweetness and the strength of the flavour infusion. You are going to love the triple strawberry flavour your looking for something that's fresh and closer to a fruity experience.
Specifications
VG/PG Ratio: 70/30
Nicotine Level: 0mg / 3mg / 6mg / 12mg
Nicotine Type: Regular Nicotine
Bottle Sizes: 60ml
Bottle Type: Plastic Dripper
Brand: Naked 100
Package includes
1 x Naked 100 Fusion E-Liquid 60ml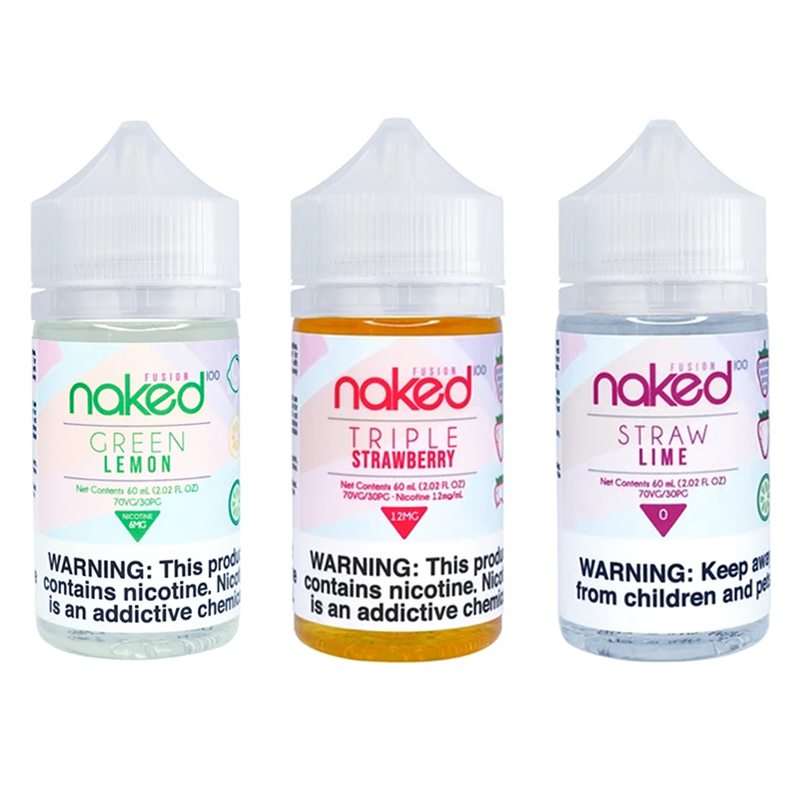 Cheap Vape Products For Sale and Buy
Product added to wishlist
Product added to compare.