Mary's Nutritionals CBD Vape Cartridge 500mg
Mary's Nutritionals CBD Vape Cartridge 500mg is the product of brand Mary's Nutritionals, it's one of the best vapor products with the option of 500mg:1pcs, etc.
Mary's Nutritionals CBD Vape Cartridge 500mg Review
Mary's Nutritionals CBD Vape Cartridge 500mg Instructions
Overview
Mary's Nutritionals CBD vape cartridge is a product that comes with a wide spectrum of hemp extracts and citrus flavors. The CBD vape cartridge that can be found here is a 510 Threaded cartridge that can be fit into any standard vape pen.
What sets Mary's Nutitionals apart is their ability to use high grade hemp in their products. This can ensure a better quality of CBD and an improved dose in every draw. The product comes with a pleasing citrus flavour and it is a CBD cartridge with massive compatibility.
The light citrus flavour and several other flavors that are available from Mary's makes sure that you have plenty of choice when it comes to your CBD oil and getting a superior quality of draw and a better tasting vapor than ever before. The hemp extract that you can enjoy here is highly developed and perfect for use if you are a novice vaper or a longstanding user.
The company has created a product that has a medicinal level of hemp grade. This ensures that anyone that is going to be using this product for medical means can ensure that they are using a product which is made from naturally occurring CBD within the plant and that the oil does not contain any type of additional terpenes. The 500 mg broad-spectrum doses that are available in this cartridge can offer the best in CBD dose regularity.
Features
THC free
Made from broad range of CBD materials
Guaranteed for quality
Specifications
Use For: CBD Oil
CBD Contain: 500mg Broad-Spectrum
Thread Connection: 510 Thread
Flavor: Citrus
Package includes
1 x Mary's Nutritionals CBD Vape Cartridge 500mg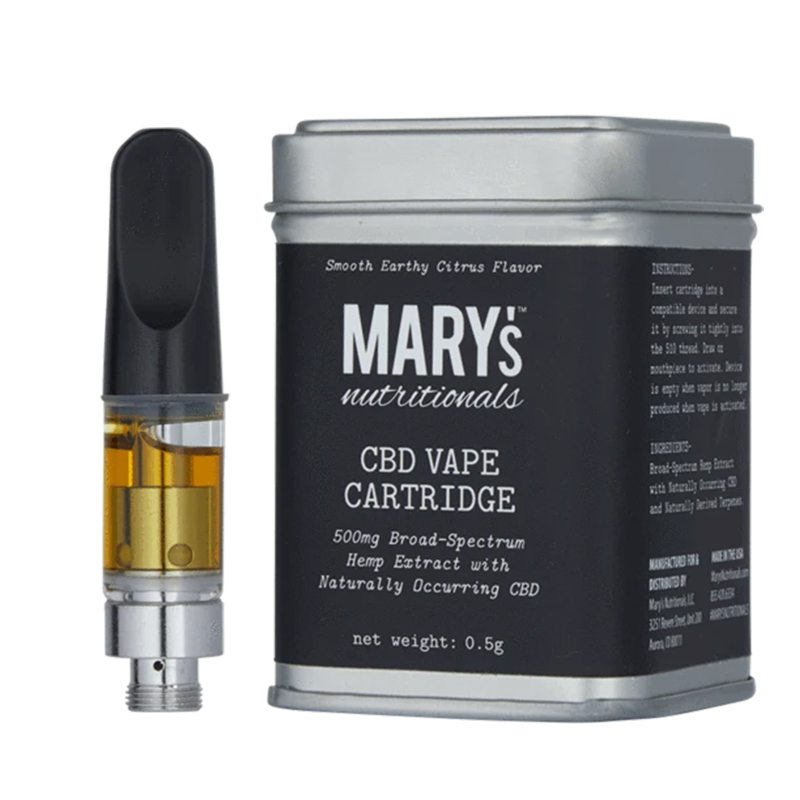 Cheap Vape Products For Sale and Buy
Product added to wishlist
Product added to compare.