Halo Cigs E-juice 60ml Collection
There are not enough products in stock
Halo Cigs E-juice 60ml Collection is the product of brand Halo Cigs, it's one of the best vapor products with the option of Tribeca:0mg, etc.
Notice: This product is currently only supported for free shipping to the United States.
Halo Cigs E-juice 60ml Collection Review
Halo Cigs E-juice Instructions
Overview
Halo Cigs E-juice - Menthol ICE
Halo Cigs E-juice - Menthol ICE is among the most amazing menthol liquids you would have ever tasted. Very refreshing and famous, this ultra light vape juice keeps cool and calm in all situations. This stunning, refreshing and clean liquid is the perfect vape for all day long. Menthol ICE e-liquid provides even the most experienced and tasteful e-liquid smokers. If you like peppermint liquids, Menthol Ice will definitely become the best and the most delicious e-juice you would have ever tasted!
Halo Cigs E-juice - SubZero
Halo Cigs E-juice - SubZero is an e-liquid that has a fresh, strong and minty effect that is stronger than any other menthol flavors out there. Thanks to its outstanding vape performance and the exquisite glacier finish, you can relax all day with a frosty taste. Halo Cigs has developed SubZero specifically for vapers looking for a more concentrated and intense menthol experience. This great vape juice has an added hint of sweet mint that hits you upon exhalation, which you will surely like!
Halo Cigs E-juice - Tribeca
Halo Cigs E-juice - Tribeca is a classic flavored and generally loved vape juice. Halo Cigs Tribeca combines throat hit all the vapers love and enjoy on exhale and inhale. It is one of the e-liquids that everyone has heard, even if they have not tried it yet. If you are looking for authentic classic tobacco juice, you should not look any further. This is a great option for people who also are trying to move towards traditional cigarettes.
Halo Cigs Tribeca Vape Juice is a great vape option all day, giving you the flavor you expect from the top notch tobacco. As with all original tobacco flavors, there are supporting and warming hints, and in Tribeca, the tobacco plate follows the notes of vanilla and caramel. It's a slightly mild tobacco flavor that attracts a lot of people who stop smoking traditional cigarettes, as well as Vapers who are looking for their next all day long vapor.
Specifications
VG/PG Ratio: 70 / 30
Nicotine Level: 0mg / 3 mg / 6mg
Nicotine Type: Regular Nicotine
Bottle Sizes: 60ml
Bottle Type: Plastic Dripper
Brand: Halo Cigs
Package Includes
1 x 60ml Halo Cigs E-juice - Menthol ICE
1 x 60ml Halo Cigs E-juice - SubZero
1 x 60ml Halo Cigs E-juice - Tribeca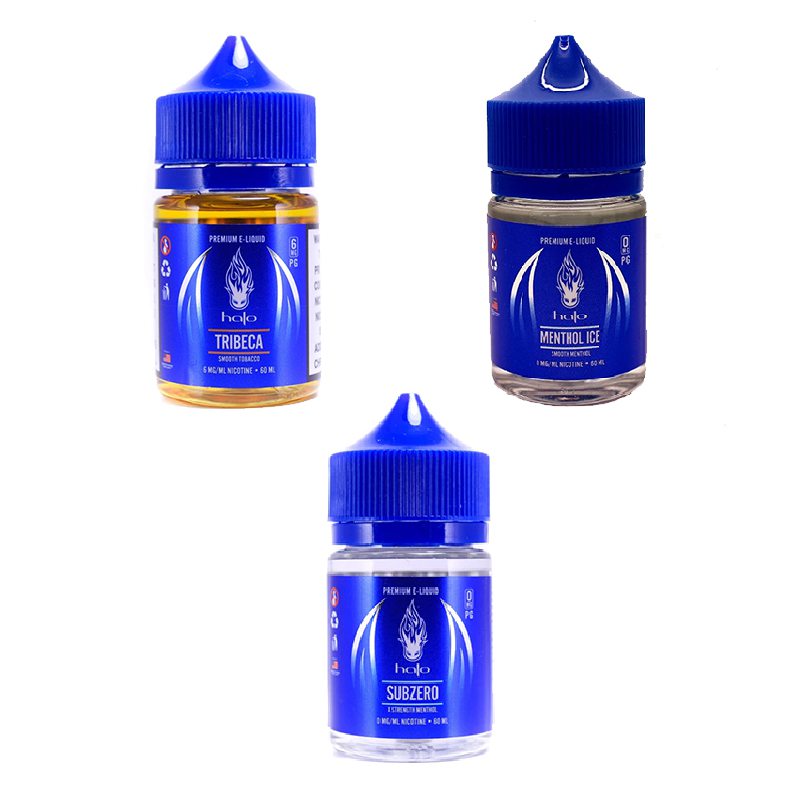 Cheap Vape Products For Sale and Buy
Customers who bought this product also bought:
Greensound
V4-10093-GS01B
Greensound EGO II is a beautifully looking eGo vape battery. At 2200mAh, this battery lasts for a long time between two charges.
EVOD Vape Pen Starter Kit Very convenient for injecting and filter e-liquid. No tar and other cancer causing substances. No second-hand smoke, environmental protection.
Product added to wishlist
Product added to compare.