CBDfx CBD Terpenes Vape Oil 30ml Collections
CBDfx CBD Terpenes Vape Oil 30ml Collections is the product of brand CBDfx, it's one of the best vapor products with the option of OG Kush 250mg:1pcs, etc.
CBDfx CBD Terpenes Vape Oil 30ml Collections Review
CBDFX CBD Terpenes Oil Collections Instructions
Overview
Vaping CBD has become one of the highly popular alternatives to oral, topical, and sublingual methods of administration. It is not only an enjoyable way to use CBD, but it also has other key benefits, like its rapid effects, which makes it excellent for issues like migraines and anxiety. Hence, a lot of the CBD companies are now offering CBD vape e-liquids. One of the highly used and most popular CBD vape juice brands is CBDfx, which produces CBD terpenes oil and has a complete collection of these oils in different types.
Terpenes are well-known for giving unique strains of cannabis their special taste or flavor and they occur in the hemp plant, naturally. Also, there are chances that terpenes might have their own beneficial effects; however that is yet to be proven. Nonetheless, a terpene-rich CBD oil can possibly enhance the benefits of CBD when it comes to one's health, and at the same time making the CBD oil more pleasant to taste.
The CBDfx CBD terpenes oil collection shows us why this is the go-to brand for many users when it comes to CBD vape juice. The terpenes oils come in various flavors and CBD strengths. Unlike the regular e-liquids of CBDfx, this vape oil uses a combination of a unique blend of cannabis terpenes plus pure CBD and the usual mix of VG/PG, which is vegetable glycerin and propylene glycol. Plus, it offers a bit more benefits as compared to the regular CBD juices, but it also costs slightly more.
If you are someone who is looking for maximizing the benefits that come with vaping CBD or are just looking for a bit more variety, then the CBDfx terpenes oils are a great alternative to the standard CBD juices.
Features
CBD available in 500mg or 250mg
Obtained from organic hemp farms in US
Comes in a 30ml bottle
Labor tested
Carefully made inside a cGMP certified facility
Multiple flavors Option
Specifications
Use For: CBD Vape Juice
CBD Contains: 250mg / 500mg
Bottle Capacity: 30ml
Flavor: OG Kush, Platinum Rose, Gelato, Pineapple Express
Package includes
1 x CBDFX CBD Terpenes Oil 30ml
What's more on CBDFX CBD Terpenes Oil?
CBDfx CBD terpenes vape oil works remarkably for any CBD vaping aficionado. Especially, for the ones who are looking to get the therapeutic benefits that comes from vaping CBD plus the extra health effects of terpenes. CBD vape products, like the terpene-infused e-liquid, are made to provide an enjoyable and fast-acting way to take in the benefits of CBD. Hence, this CBDfx CBD terpenes vape oil meets those very goals.
Furthermore, like a lot of the CBD vape e-liquids, this oil also uses a one to one ratio of vegetable glycerin plus propylene glycol that's mixed with CBD isolate, which is a pure form of CBD. Moreover, it also stands out for adding in a unique blend of terpenes that's based on popular cannabis strains. Thus, this type of vape oil is a bit more effective than your standard CBD juices and has a special and distinct flavor.
How to use CBDfx CBD Terpenes Oil?
Majority of the companies sell their vape e-liquids in small glass bottles with droppers, but that can be messy to use. On the other hand, CBDfx uses a container that's vape-friendly and comes with a protective cap in order to reduce any chances of leaking. Plus, there is a narrow opening so you can easily pour the liquid into your vape tank. The CBDfx CBD terpenes vape oils are made to be used in any rechargeable vape pen that you already own.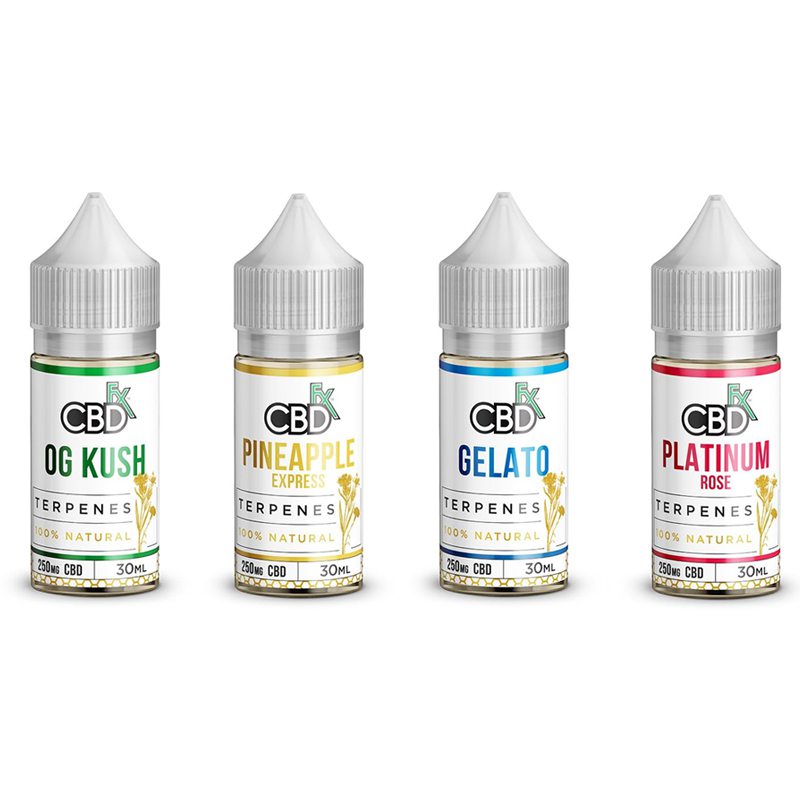 Cheap Vape Products For Sale and Buy
Product added to wishlist
Product added to compare.