Blue Moon Hemp CBD Shatter
Blue Moon Hemp CBD Shatter is the product of brand Blue Moon Hemp, it's one of the best vapor products with the option of Pineapple Express 1.0grams:1pcs, etc.
Blue Moon Hemp CBD Shatter Review
Blue Moon Hemp CBD Shatter Instructions
Overview
Blue Moon manufacturers have sourced the most sustainable and flavorsome ingredients to produce the Blue Moon Hemp CBD Shatter. It has a one of its kind formula with 99.6% pure cannabidiol. The brand has outdone itself with this amazing product, which speaks for itself.
The shatter comes in 0.5 gram to 1 gram of the product. There are many variations of this product, including pineapple express CBD Shatter, sour diesel CBD Shatter, and Savita AK47 shatter.
It is safe to say that Blue Moon Hemp is an extraordinarily amazing shatter.
The product also comes at an excellent price point, therefore, you don't have to worry about that as well. The Blue Moon is not new in the market and they know the work about it. That is why it is practically safe to use any of their products.
Also, it is important to mention here that the product is highly pure, that is why it will send you in a euphoria, when you use it.
All the ingredients are sourced organically and sustainably to help the environment stay happy and healthy. No products will harm the eco-system. So you can enjoy your vape session guilt-free.
The shatter is as pure as it came to be. The purity of the product gives you an intense flavor and an amazing vaping experience.
Features
It comes at an optimal point, which is $35 for 500 mg and $59 for 1000 mg. If you compare these prices with the other companies, you won't get them at such a nice price.
The concentrate is 99% pyre ad comes with a third party certificate, which ensures that the product gives high-potency doses, when consumed or vaporized.
Concentrates are more likely for the experienced users, that is why they deliver a high dose at every step.
All the ingredients are organically procured from Kentucky, USA. The labs have conducted various tests and have confirmed that no pesticides and heavy metals have been used in the production.
Moreover, the company holds all records and certificates for the lab results.
The shatter can be smoked, formulated with other mixtures, and vaped.
It can be used with either a dab rig or a vaporizer.
It comes in four distinct flavors, including Pineapple, Blueberry, Sour Deisel, and Sativa AK.
It is the only brand offering four different flavors, which gives the brand an overall competitive edge.
Specifications
Potency: 99.6%
THC Content: 0%
CBD Content: 500mg / 1000mg
Flavors: Sativa AK, Pineapple, Sour Deisel, Blueberry
Extract Type: Isolate
Package includes
1 x Blue Moon Hemp CBD Shatter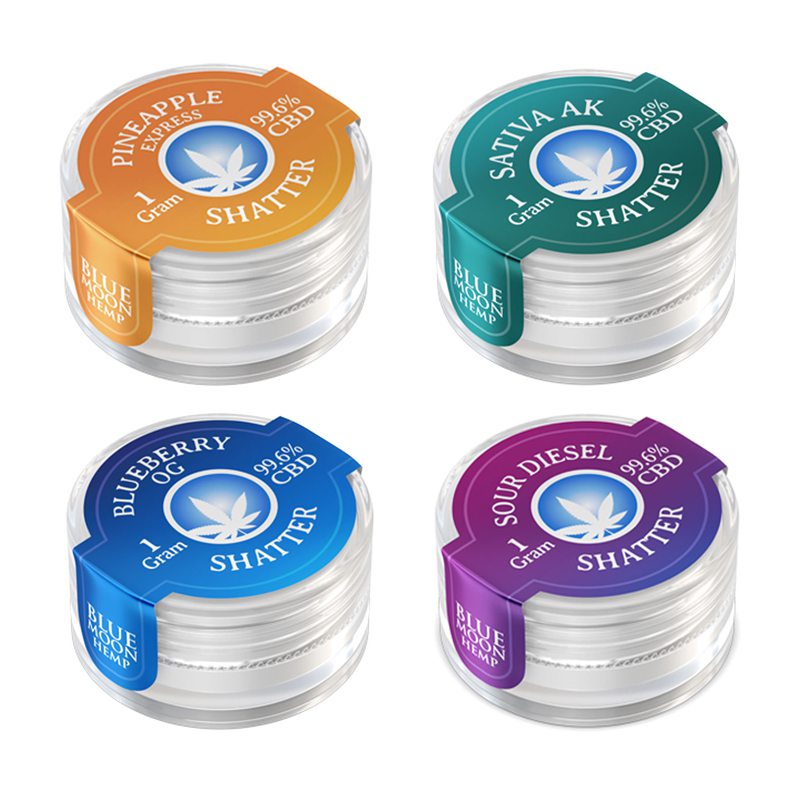 Cheap Vape Products For Sale and Buy
Customers who bought this product also bought:
Yocan Magneto Vaporizer For Wax is the product of brand Yocan, it's one of the best vapor products with the option of Black Kit:1pcs, etc.
Product added to wishlist
Product added to compare.