AKUA CBD Vape Juice Collections
There are not enough products in stock
AKUA CBD Vape Juice Collections is the product of brand CBD Drip, it's one of the best vapor products with the option of Orange Candy:30ml 250mg, etc.
AKUA CBD Vape Juice Collections Review
AKUA CBD Vape Juice Instructions
Overview:
AKUA CBD Vape Juice is comprised of certified substances. It is using only natural components and reliable preparation techniques, thus complying with the highest standards. AKUA CBD provides a great variety of cannabinoids with various concentration strengths and substances such as Natural Flavor Extracts, Propylene Glycol, Vegetable Glycerin and Full Spectrum Hemp CBD Oil. They are considered to contain no more than 0.3% THC because they are acquired from hemp.
Both beginners and CBD consumers can easily use any of the Full Spectrum AKUA's CBD Vape Oil products. These products contain unique carrier of oil mix which is suitable for vaping devices with different standards. It represents an excellent complement for providing your daily CBD. Mixed berries, orange candy, and lemon cake, are some of the Hawaiian flavors of Akua CBD vape juices. These products feature a broad spectrum CBD concentration of 250mg, 600mg, or 1200mg.
Features:
Laboratory Proven and Certificated
Completely Natural, 99% Clear CBD
Legitimate in each one of the 50 states
It might be utilized both by vaping and tongue.
Flavors of the Akua CBD Vape Oil
AKUA CBD Vape Juice - Orange Candy
If you are a "citrus" addict then AKUA CBD Orange Candy CBD Vape Juice is the ideal flavor for you offering a pleasant and an exceptional experience on vaping. This daily complement with delicious orange taste, which is a result of mixing high quality CBD oils with extracts that contain natural orange taste, PG, and VG, is extremely enjoyable and beneficial. Orange Candy CBD vape juice guarantees you a daily flavorful amount of CBD with a luscious orange delight.
AKUA CBD Vape Juice - Lemon Cake
Your senses will be thankful if you treat them with Vape juices that are a mixture of full spectrum CBD oils and traces of lemon taste. This extraordinary pleasure of lemon taste that is naturally extracted, whenever combined with vegetable glycerin, CBD oil, and propylene glycol, is simply irresistible. When vaping this CBD liquid your taste buds will get the same feeling as if when eating a lemon cake. So far we have used the taste of lemon puddings, pies and custards. Now, we have decided to add the flavor of lemon frosting in our vaping liquids and provide you with something even more enjoyable and sweet.
AKUA CBD Vape Juice - Mixed Berries
AKUA CBD Mixed Berries CBD Vape Juice lets you enjoy in the luscious and natural flavor of strawberries, blueberries and raspberries together with organic hemp. The flawless combination of syrupy red strawberries, sweet raspberries, and tasty blueberries, is the secret for creating vape juice that is both extraordinary and healthy and satisfies all CBD needs a person can have. This magnificent fruit mix is cool and it has an irresistible taste.
Package Includes:
1 x Akua CBD Vape Juice 30ml 250 mg/ 600 mg/ 1200 mg
Akua CBD Vape Juice Instructions:
Vape Kit - You can utilize it at any time with all vape devices that use regular e-liquid. You can also use it a as a supplement to your preferred e-juice.
Tincture - Put 10 drops (around 1/2 ml) beneath your tongue and keep it awhile prior swallowing. If you hold them beneath the tongue, then they will be easily absorbed in the bloodstream. The absorption rate is directly proportional with the time of holding the drops beneath your tongue.
If you are pregnant, nursing, if you have a medical condition, or if you take any medication, then it is required to consult with your doctor before using it.
It is recommended to keep the products is a dry and cold place, and to shake them before using.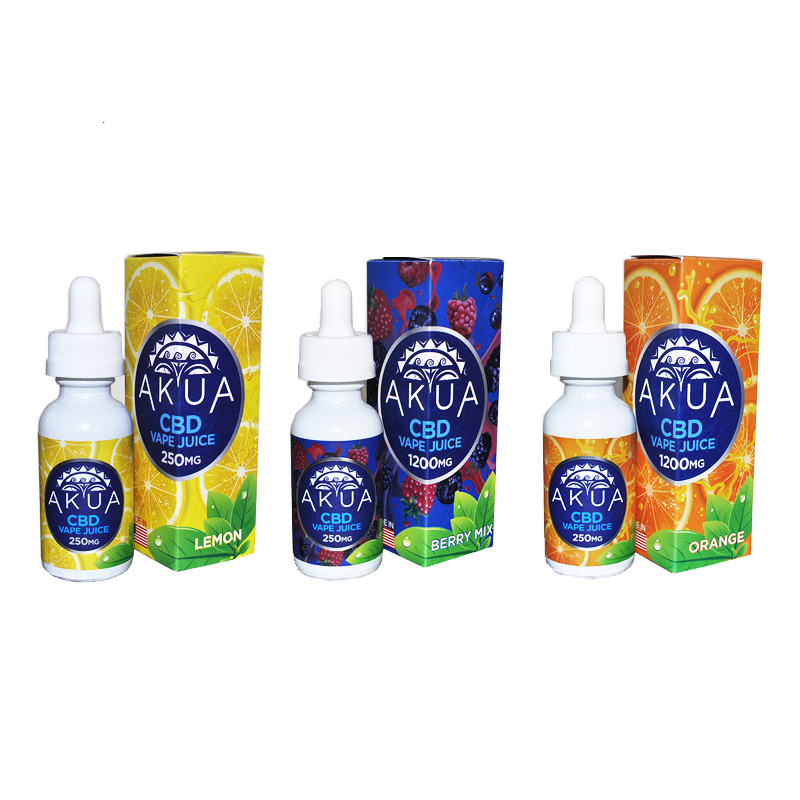 Cheap Vape Products For Sale and Buy
Customers who bought this product also bought:
Yocan Evolve Plus Coil is a brand new innovative coil head for Evolve Plus Wax Kit. There are Quartz Dual Coil (QDC) and 0.8ohm Ceramic Donut Coil for you to choose from.
Airistech Herbva Viva Dry Herb Vaporizer Kit 2200mAh With Ceramic Chamber is the product of brand Airistech, it's one of the best vapor products with the option of Black, etc.
Yocan Evolve Plus Kit 1100mAh Dry Herb/Wax Vaporizer Vape Pen Fir For CDC Coil/QDC Coil is the product of brand Yocan, it's one of the best vapor products with the option of Black, etc.
Product added to wishlist
Product added to compare.